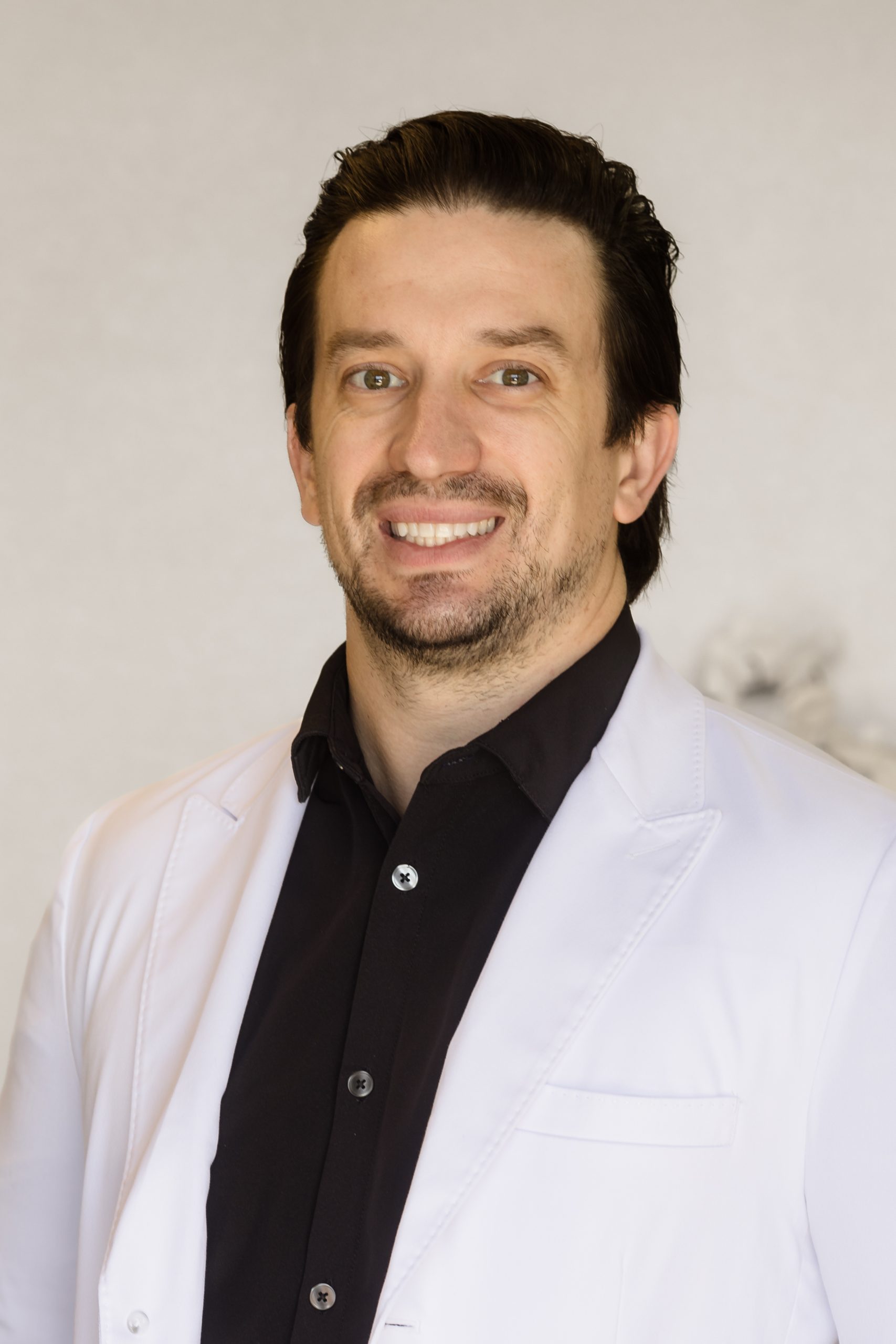 When you first meet a new dentist, it takes a while to know and trust him. I'd like to tell you more about myself so we can collapse the amount of time it takes to get to know me. I'm hoping that this will help open the door to you feeling more comfortable around me so you can share your concerns with me. Then I'll be able to take better care of your teeth your teeth are my mission in life!
PERSONAL
Spending time on my uncle's farm driving a tractor along with my cousins and four siblings in Richland, Washington, I was raised with small town, good solid values. I am the oldest of the children in our family, and this meant to me lots of responsibility that I had to learn quickly. Part of those responsibilities has included learning how to make people feel comfortable no matter what situation they are in.
My wife was my high school sweetheart. She has been a hair stylist in North Scottsdale for the last 3 years. We don't have any children yet but our 8-year-old Chihuahua named Blitzen is our pride and joy right now. He loves to bask in the sun and bark at anything that breathes.
We love to binge watch shows, eat out at great restaurants around the valley and constantly search for new food adventures. I'm also a huge video game nerd and was world ranked on Halo2 way back in the day. I still play video games but wake surfing in the summer and snowboarding in the winter gives me a lot of pleasure. I stay shape by hiking.
As a child I never understood why people hated going to the dentist. Later on, I realized that it was because they didn't have an amazing dentist like I did!
EDUCATION
My bachelor's degree in Biology was from Central Washington University and my Master's degree was in Biomedical Science at Midwestern University in Glendale AZ. I continued there after the Master's degree for my Doctor of Dental Medicine degree. It was at Midwestern University that I was introduced to all aspects of dentistry including implants, cosmetic dentistry, digital dentistry and full mouth reconstructions and my love for dentistry was awakened to a high level.
Dentistry is one of those professions where you have to stay up-to-date. I am always actively involved in dental study groups about the latest advancements in dentistry with my colleagues and attend CE's to constantly discover more and more new techniques that can save my patients money and prevent pain and suffering.
PROFESSIONAL
Helping my patients reach a level of comfort is one of my big goals. Eliminating the anxiety they feel at the dentist's office and having a calm experience is what I hope to bring to every patient. Because of the strong connection between oral health and systemic health, I always seek to inform my patients about this so they can use it to their advantage to reach their goals of overall health and happiness. The ability to boost someone's confidence with that perfect smile is another satisfying aspect of dentistry that I love to provide.
With my academic background, I firmly believe in taking the time to listen to and talk to patients. To be able to really understand a patient's concern, whether it's cosmetic, pain-related, or function-related, this allows for a successful appointment allowing the patient to reach their dental goals. I take the time to walk through a detailed explanation of the patient's mouth with photos as part of their visit.
We discuss the how's and why's of prevention so they can make the proper decisions and take the right actions to prevent dental disasters. It's my job to provide this education to my patients. I love all my patients and want to do what's right by them as well as their mouth!