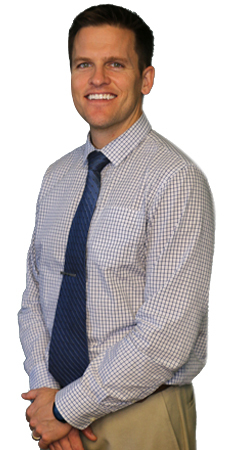 It is always easier to talk to someone when you know and trust them. I'd like to tell you a little bit more about myself so we can start out our relationship better. I'm hoping that by having a trusting relationship, you will feel open and be able to share your concerns with me, so that I will be able to take better care of your teeth.
PERSONAL
I am a father to five crazy kids, husband to a wonderful wife, and a third-generation dentist. I grew up in Utah but have spent the past few decades living in Brazil, Connecticut, Tennessee, and Arizona. I have been on archaeological digs in the Middle East, can read a few dead ancient languages, speak Portuguese and Spanish, and love hiking, biking, and trail running. Few things make me happier than a beautiful scenic hike or exploring a national park with my spouse and children.
EDUCATION
Dentistry is my second love. My first love was academics and I spent a decade studying ancient history, religion, and archaeology earning a master's degree from Yale, then a second master's degree and subsequent Ph.D. candidacy from Vanderbilt. While I was typing my dissertation and we were having our fourth child, I became a dental assistant to supplement our income. It's a long and winding story, but to keep it short, I parted ways with academics and ran off with dentistry. That was one of the best decisions of my life. After graduating #1 in my dental class for overall clinical achievement and excellency, and earning awards in Endodontics and Prosthodontics among others, I moved my family to Arizona to practice dentistry with my older brother Dr. Jared Pope.
PROFESSIONAL
Patient education and prevention of disease are at the center of my philosophy of care as a dentist. Given my academic background, I firmly believe in taking the time to listen to and talk to patients, understanding their needs and goals and then thoroughly educating them about their teeth and gums so that they are empowered to make informed decisions about their own oral health. The best and most affordable form of dentistry is preventative dentistry. My goal is to help my patients stay out of my chair as much as possible. This is accomplished by utilizing a handful of preventative measures, including regular cleaning visits with our first-rate hygienists. When a tooth needs attention and a patient ends up in my chair, I strive to provide quality care with beautiful esthetic results.